Support The Well Works Program
WHY IT MATTERS:
Meet Austin. A Well Works employee. Here's what he has to say about why this matters.
"People believed in me here when I didn't believe in myself. I didn't have a driver's license, a high school diploma, or a place to stay. The Well gave me hope, and now I have my license, my GED, and my own apartment. I'm now working on the next phase of getting a job in the community." – Austin, Works Employee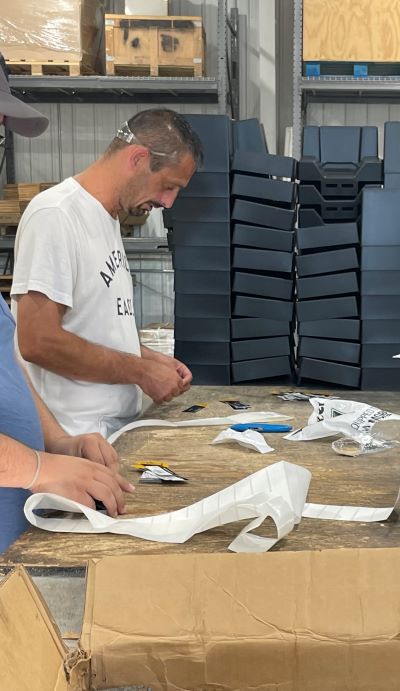 Dear Friends of The Well,
We'd love to let you in on a little secret. One of the things that can be frustrating here at The Well is hearing someone say, "I don't know why that person doesn't just get a job." In our experience, it is never that easy. With many job openings and labor market challenges today, if it were as easy as just getting a job, we wouldn't have a problem.
We know you want more for this community, and to see people overcome their circumstances. We get it. Yes, you most likely want struggling people to get a job, but it should ultimately be about finding stability, self-sufficiency, and the dignity that comes through work. So why do some people struggle with employment? Let's face it. There are a number of organizations that will help people get a job; there are very few who will teach them how to keep it. That's where The Well steps in.
15 FOR 15:
This summer, our fundraising efforts are focused on Well Works, an on-site work environment where people are transformed through paid work, education, and mentorship. Our philosophy is that God created each person with unique talents and skills and that He has put the necessary ability inside of each person to be successful. Participants develop technical and soft skills necessary for employment while learning life skills and addressing other areas of instability. Our purpose is to help clients discover the work God has for them and to equip them to accomplish that work. We target the root of why it's so hard to get a job. And keep it.
You can help fund one person's journey towards self-sufficiency by partnering with us today. It costs $15,000 annually to support one person through the Well Works program. Every dollar you donate towards our 15 FOR 15 campaign will directly support our aggressive goal of putting 15 more people through Well Works program in the next year. 15 FOR 15. And good news… some generous local donors have said yes to partnering and will MATCH ANY DONATION OF $600 OR MORE, UP TO A TOTAL OF $100,000!
HERE'S WHAT THESE LOCAL DONORS UNDERSTAND:
Getting and keeping a job isn't easy. There's A LOT OF INSTABILITY in our clients' lives which The Well is HELPING THEM TO NAVIGATE.
Our clients are ACTIVE PARTICIPANTS in their own transformation. We're not just giving people stuff. That can create dependency. We want to break cycles of dependency and empower people with the tools to thrive.
Well Works clients are PAID FOR 35 HOURS PER WEEK of which 32 hours is spent doing outsourced work from local companies like Vermeer, LDJ, Ring-O-Matic, Right Turn Supply, Geetings, and more. We replicate a real-world work environment focused on BUILDING SOFT JOB SKILLS like responsibility, accountability, work-hardening, teamwork, the "rules of work," safety, quality, and productivity. Things you would need and be expected to have with other employers in the community.
Well Works clients spend around 3 HOURS PER WEEK IN PROGRAMMING, COACHING, and WORKING ON OTHER AREAS OF INSTABILITY. This can be hard work, and transformation takes time. And people.
Each Works client RECEIVES A FINANCIAL ASSISTANCE PACKAGE that helps them to STABILIZE THEIR RESOURCES while in this program. As a person is building their own resources and developing job and life skills, we work with them towards self-sufficiency and stable employment back into the community.
JOIN IN. YOU'LL SEE POSITIVE CHANGE:
Here's how to double your impact and take advantage of this MATCH CHALLENGE TODAY! Together we can break cycles of dependencies and move people towards a stable livelihood for them, their families, and for their future generations.
Join The Well Underground group. Underground members are monthly donors committed to making an ongoing impact. All new donors giving $50/month or more will be matched up to the current challenge of $100,000.
Give a donation of $600 or more before the end of September 2023, and it too will be matched!
Put up your own challenge. We need 15 FOR 15. Ask others to join you in sponsoring 1 client a month at 1 of the levels below.
| | | |
| --- | --- | --- |
| Donor Level | The Well Underground Monthly Sponsor for 1 Client | Annual Partner |
| Innovator | $2000/month or more | $24,000 |
| Leader | Full sponsor at $1250/month | $15,000 |
| Builder | 2 sponsors at $625/month | $7,500 |
| Ambassador | 5 sponsors at $250/month | $3,000 |
| Advocate | 12 sponsors at $105/month | $1,250 |
| Ally | 25 sponsors at $50/month | $600 |
This is a COMMUNITY EFFORT. We have a Resource Center that was started through the efforts of multiple churches, individuals, and businesses, because they knew there was a better way of "helping." The Well Resource Center is working WITH people to find stability. What makes The Well unique is that we can bring WORK right alongside it.
Thank you to all our partners and friends. And thank you for considering how your donation can give help and hope.